EXTENSIVE REPORT CAPABILITIES
REPORT WRITER:
CREATE CUSTOM REPORTS FROM YOUR PLAN
Create your own custom reports with the Enterprise Edition's built-in report writer. You can make complex analytic reports using mathematical formulas and over 150 plan functions.
Sort Ascending and Descending
Totals, Sub Totals, Averages
Filter Results
Formatting, Alignment
Output to Screen, Paper, PDF, Excel, Html or Graph
The Financial Analysis report below is included with the program. It displays the cost of putting together your planogram and the profit to be made. This information is sorted and subtotaled by category so you can see the profit contribution of each category.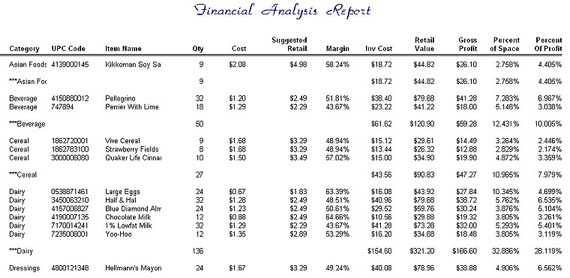 This is a sample Financial Analysis report.
This next example report shows the number of facings and actual net sales for each product summarized and subtotaled by shelf. The blue band show the shelf number, as well as length and depth.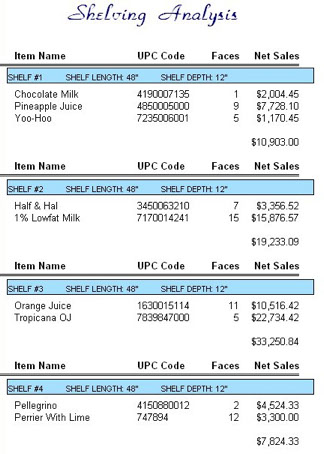 This is a report showing net sales per shelf.
PRESENTATION MANAGER:
A POWERFUL REPORT LAYOUT TOOL THAT LETS YOU COMBINE MULTIPLE REPORTS ONTO ONE PAGE
Create stunning presentations by combining plans and reports. In fact, create presentations from anything that Enterprise Edition can output. You can size and place the report elements anywhere on the page and have up to 10 pages for the presentation.
Report Elements include:
Plan Printout - Front, Side or Top View
Plan Properties
Any Custom Report
Visual Sales Report
Category Management Report
Visual Sales Report Key
Text in choice of any Font Style and Size
Graphic Image or Photo
Supports All Paper Sizes - Portrait or Landscape
Use Lines and Boxes
Here are some sample Presentation Reports: